tall stories
A seeming paradox in the wordless nature of a place.. filled to the brim with stories.
'Pillars', 'Placeholder' and 'Pietà' were three works made for Sense of Place, a site responsive exhibition curated by Soraya Smithson and held at the Willoughby Memorial Trust, Corby Glen, Lincolnshire – a former 17thC schoolhouse now library and gallery dedicated to the memory Lord Timothy Willoughby de Eresby.
In the history of the alphabet 'P' is for 'Mouth' (Mother of all Stories).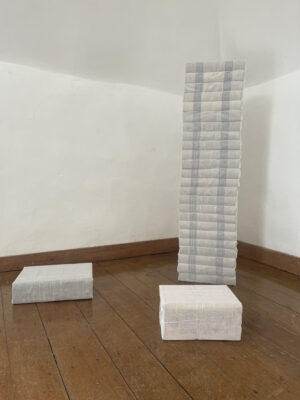 'Pillars', 18thC Bible; 23 volumes of Encyclopaedia Britannica and Burke's Peerage 1938, wrapped in bookbinding cloth and tied with whipping twine. (Books loaned from the Willoughby Memorial Library). This work was a response to the notion of boundaries, conceived and upheld by the church, the state and conventional education – parameters formed to contain what is considered acceptable and reject what is not – props to 'know your place'.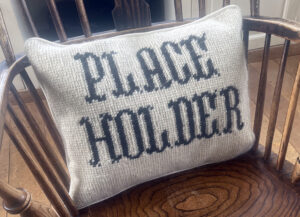 'Placeholder', undyed Lincoln Longwool and Jacob Lambswool needlepoint cushion, on a 18th C Lincolnshire Windsor chair next to the memorial to Lord Timothy Willoughby de Eresby. The memorialised story of Timothy's death suggests that, age 27, he was shipwrecked in the Mediterranean and died at sea, however rumours hint that he may have willingly disappeared owing to his impending Earlship and the fact that his sexuality was a criminal offence at the time. The work simply holds a place for those whose stories are 'out of place' somehow.

'Pietà' – iodine and baby oil on newsprint paper. Just as a memorialised story is a form of fiction so too is one that is demonised. This work reflects on local events that became headline news in the early 1990's. Despite being such an extremely tragic story, it seemed important to acknowledge it in some way, however subtly. The work is a contemplation on the fiction of separateness and apparent tragedy that can occur around those who experience it as real.